Pet Odor Removal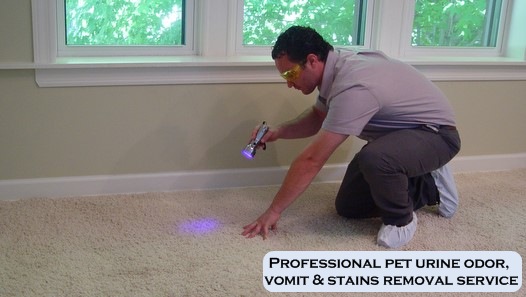 You should hire the services of a professional carpet cleaner if your home or rental unit has strong pet odor and need it to get rib of it as soon as possible. Trying to remove pet odor yourself without the help of a professional will cost you time and money and most probably you will get poor results. Pet Odor Removal is one of the most difficult task for any carpet cleaner even the most experience ones. At Manny's Carpet Cleaning we have take advance training in Pet Odor Removal in order to provide our customers the best service possible.
Our pet odor removal process start with a thorough inspection of all the areas in your home, we identify the source of the contamination by using UV lights and other advanced tools. Our process does not simply mask the urine smell but it actually eliminate the problem for good by cleaning, sealing and neutralizing the contaminated areas and replacing the carpet padding if necessary.
Most people will go to their local store and buy whatever products they can find that promise to eliminate pet odors and even the stains. If you would like to safe yourself some time and money, you should contact a local carpet cleaning professional instead. The majority of the cleaning products you will find at your local store are not design for major pet odor or pet urine stains problems, a professional carpet cleaner has access to commercial grade products not available at the local stores that will be needed to get better results.
If you are searching for a solution to pet odor or pet vomit and stain removal, contact Manny's Carpet Cleaning at (813) 358-3876 for a free inspection!