Providing quality carpet cleaning and repair services in Riverview, Lithia, Brandon, Valrico, Apollo Beach, Ruskin and all Surrounding Areas of Tampa Florida.


Are you tired of having dirty or damaged carpet? Do you have ugly stubborn stains, wrinkles, burn marks or any other carpet related problem you just want to get rid off? Call Manny's Carpet Cleaning and Repairs today and we can make your carpet related problems disappear as soon as tomorrow. We have over 12 years of experience providing quality carpet cleaning and repair services to homeowners, tenants and some of the area top real estate agents in Riverview Florida and surrounding areas. Our range of services includes pet damage repair, pet urine stain removal, carpet cleaning and odor elemination.
Also offering
Tile and Grout Cleaning
Carpet Stretching
Mattress Cleaning
Pressure Washing

(New)
We only use professional truck-mount cleaning equipment and non-toxic hypoallergenic cleaners that are safe for the whole family and will leave your home smelling great and your floors looking brand new again!. Here at Manny's Carpet Cleaning and Repairs we emphasis quality and customer satisfaction. You can count on us to provide you with the best service and performed in accordance with the Carpet Cleaning Riverview FL industry's highest levels of quality. We strive to earn your business and your trust by exceeding your expectations. Our reputation is built on principles of honesty, respect and dedication. Cleaning carpets in is not just our job, it is  our passion!
We are SUPER convenient too

Our customers LOVE how convenient it is to simply call us or send us an email to schedule an appointment and get a call from us 30 minutes before their scheduled time to let them know when we are on the way. We can also accept payments over the phone, so if you can't be personally present when we arrive but can have a friend or family member open the door for us we can get the job done as if you were there. We understand how busy life can get, and want to make the process as easy and straightforward as possible!
What if I am not satisfy with the job?
All our services come with a 100% Satisfaction Guarantee! If for any reason you are not completely happy with how an area look after we had cleaned it, we will come back to fix it for you at no extra charge. So there is Nothing to Lose But the Dirt on Your Carpet, Upholstery and Tile Floors.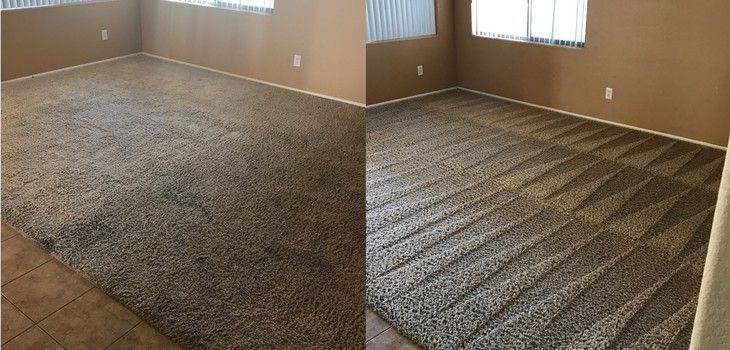 Call us today for your free estimate at 813-358-0345
Why Us?
We only provide a premium carpet cleaning service which is the same for every home we clean. We do not offer two levels of cleaning like some of our competitors do and we do not charge extra to remove non-permanent stains or deodorize your property. Some companies have a basic or standard cleaning, that's the one they advertise but when they arrive they try to talk you into their deep or premium cleaning upgrade which usually cost more (most of the time a lot more).
At Manny's Carpet Cleaning there is no Bait and Switch of advertising a cheap basic cleaning and then nickel and diming the customer with extra charges for things that should have been included in the first place. Every job we do gets our best efforts and best equipment for the same quoted price- Every Job, Every Time!
Benefits
When you hire us you will instantly receive the following 3 benefits:
1– The price we quote you over the phone will be the price you pay. No hidden charges! – No bait & switch! – You tell us what you want cleaned, we tell you how much it will cost.
2– You will be satisfied or you don't pay! Ask us to clean your dirtiest area first. If you are not happy with the results We'll pack up our equipment and you owe nothing!
3- If spots reappear withing 14 days We'll come back to re-clean them at no extra charge to you!
Are you a Realtor, Property manager or Investor looking for a reliable local carpet cleaning gibsonton fl company you can trust and count on?
If you're on the search for a local carpet cleaner that will get your customer carpet cleaned the right way and for an affordable price then your search is over. Whether your needs are Residential or Commercial, we have the experience, knowledge, and equipment to get the job done fast and provide you with the cleaning results you're looking for. Let us bring your clients carpet back to life again and help them save a lot of money in replacement cost with our powerful and superior deep steam cleaning process.
You Get the Healthiest Deepest Carpet Cleaning in Lithia FL, Brandon FL, Valrico FL, Gibsonton FL  Ever…Or It's Free
Our deep cleaning process go way beyond what the average cleaners in the area has to offer. It was specially designed to neutralize the allergens in your carpet such as dust mites, bacteria and pollen. In addition it will remove even the toughest spots, odors, dirt and grime that has ground into the fibers of your carpet for years. Leaving the fibers super clean, smelling clean and because we don't use or leave any harsh residue behind your carpet will stay cleaner longer. No other carpet cleaning method alone can provide a deeper, healthier cleaning that last so long.
We stand behind our work, if you are not 100% satisfied with the results you'll get your money back, Guaranteed!
No Gimmicks, No Surprises or Hidden Charges!
We offer premium cleaning services at fair prices. Our pricing is up front and honest. We do not use high pressure sales or "bait and switch" tactics to make a quick buck. The price we quote you either on the phone or in person is the same price you can expect to pay once we are done with the service… period! There are no surprises or hidden charges with us ever.
TESTIMONIALS
Average rating:
28 reviews
Feb 21, 2018
Amazing Job
Manny did an excellent job!! He kept me informed of all work he was doing. Great communication skills!! Very professional in his work. Thank you!
Dec 13, 2017
Very good technicians and pleasant to have in home.
Manny and George were fantastic and hard working. They did a great job with couches, carpet cleaning and stretching! We now can have friends over for Christmas. We are very pleased!!
Dec 12, 2017
I usually do not do reviews
I usually do not do reviews but this company deserved one! I had damage from my dog and not only did they fix the rug but was reasonably priced.
Sep 23, 2017
EXCELLENT SERVICE!
Called in on a Tuesday to set up an appointment. I was given a quote right away by Amanda by simply sending in pictures and the pricing was fair. Manny came out two days later to do some patchwork in my home and did an amazing job! Manny and Amanda were both very pleasant to work with. 10/10 would recommend and will definitely be calling back if I need any other carpet services.
Sep 22, 2017
They were prompt to fit us in and very friendly.
They cleaned our microfiber couches and carpets. We just recently had a party and the addition of a new dog that caused us to need the services. We have worked with other companies in the past when moving out of prior homes. This company went above and beyond anything we saw those other companies do. The amount of time and attention to detail on their work was beyond impressive. Cannot beat their prices either. We will be sticking with these guys in the future!
Aug 19, 2017
Best carpet clearners
I have been using Manny carpet cleaning for some years and I would and have recommended this service to anybody, they are very professional and polite....the carpet comes out great
Apr 18, 2017
FLAWLESS!!
If i could give them 10 stars i would!! the entire experience was flawless. from the very beginning the process over the phone was amazing. VERY efficient and professional! they came to my home at 9.30 and got right to work. they left at noon and my carpet,sofa, 2 club chairs, ottoman and pillows were SPOTLESS! i was in awe! my sofa is over 10 years old and is lived on by my dogs, it was FILTHY and i contemplated throwing it away. the chairs were the same. i thought i would give Manny a try. they cleaned and cleaned and cleaned until they were confident i would be happy. i was ecstatic, if i knew how to do cartwheels i would have. i now have a reliable, honest cleaner in riverview florida. oh - and they did not play games with the pricing. the price was as stated over the phone, no sales pitches or markups.
Mar 2, 2017
CLEAN
I saw Manny's truck in our development and decided to call for an estimate. The dollar amount was to my liking so I set up a day and time to do the cleaning. We were very pleased with Oliver's work. We just had traffic areas cleaned and when the carpet dried they we excellent compared to other companies we have tried.
Dec 30, 2016
Would highly recommend
Never expected my carpets to look good again after 8 years of high traffic and numerous pets. Manny and his brother were an awesome duo! Got it done in a timely manner. Great job, just can't say enough. They even made my home smell like blueberry muffins.
Dec 23, 2016
Amazing !!!!
I had a dog that lived with me and destroyed my carpet, from urine , poop to ripping up the Carpet. I called manny carpet cleaning and the came out the time they said they would and I was at work while they attended to the apartment. I came home and I promise I thought I was in a different house , carpet look brand new. I had to call them back just to see if they installed new carpet. My leasing office even asked who did my carpet. Very friendly staff , very affordable prices, very neat and presentable. Just all around amazing would use them again and again and refer to anyone. !!!!! Just love them 😩❤️🤗
FACTS ABOUT CARPET CLEANING RIVERVIEW FL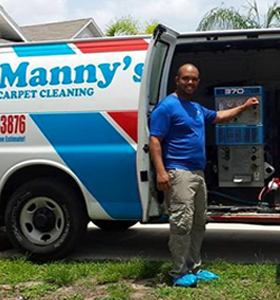 The main purpose most homeowners who are searching for professional carpet cleaning riverview fl is to remove the dirt, grit, stains, sand and allergens that has accumulated on their carpet for years. There are various carpet cleaning methods available.
Manufactures are also aware on how important it is to keep a clean carpet. It helps to make the carpet more appealing, durable and healthier when compared to the one which are poorly maintained. As per the information presented on Sanitary maintenance magazine, carpet cleaning has always been misunderstood. However, chemical developers have now managed to come up with innovative carpet care technology, such as encapsulation and green technology. These methods are quite easy to use, save money and time, do not require extensive training and cause minimal re-soiling when compared to the traditional methods.
Carpet Cleaning Methods Available:
• Dry Cleaning
• Bonnet Cleaning
• Shampoo
• Steam Cleaning
Steam Cleaning or water extraction by use of hot water is by far the most recommended. This method works by spraying hot water and not steam onto the carpet by using specially designed equipment. You can either use pure water or add some cleaning chemical into it. A good number of carpet manufactures, see this method as being the most effective. Unlike the use of hot water, using actual steam can damage the fibers of a man-made carpet.
Out of the different advantages linked to the extraction method, the most significant one is the fact that it is a highly effective carpet cleaning method which only requires the use of hot water and in some cases a small amount of detergent can be added into the water. This comes in quite handy as it helps to prevent the formation of detergent residues within the carpet. This problem is highly common with other cleaning techniques. This residue usually attracts dirt from underneath the shoes as people move about on the carpet. This ends up making the carpet dirty soon after washing.
Due to the fact that hot water extraction technique only requires minimal to no detergent, it is a highly suitable cleaning method for individuals who are looking to avoid any form of chemical exposure more so for children crawling about on freshly cleaned carpets. This method also helps to get rid of any concerns that may come about as a result of breathing unstable chemical compounds present in other cleaning techniques.
The main disadvantage of the extraction method is the fact that it may be impossible to extract all the water used from the carpet. This can later cause mold to grow especially within an environment with high humidity. This problem is usually avoided when using high end equipment. After cleaning a carpet, the moisture left behind can evaporate quite fast by heating, ventilation or air conditioning.
The market is filled with a wide variety of extraction equipment used for cleaning carpets. Equipment used by homeowners usually less costly and can also be rented. Specialized carpet cleaners usually require more costly commercial cleaning equipment. This usually consists of an extraction disc and a spinning forceful pressure spray. Such equipment has the capability to achieve numerous spray extraction rotations separate from the backward or forward movement of the appliance.
The equipment used for this specific carpet cleaning technique can either be portable or truck mount. The portable type gets its power directly from an electrical outlet while the truck mount cleaner is usually fitted with a long hose moving from the truck all the way to the room being cleaned. The latter comes in quite handy in areas that lack electricity. However, when it comes to areas that are located far from a road or driveway it may not be suitable. The hose can also cause accidents in the hallway when one trips over them. When using truck mount equipment, you will be required to leave your door open due to the presence of the hose. This will cause the heat to escape from your home leading to the wastage of energy. However, when all is said and done cleaning using truck mount equipment is highly effective with faster drying time when compared to portable equipment.
Ammonia solution which is a good form of an alkaline agent is usually used as a pre-conditioner when cleaning synthetic carpets using the high pressure extraction method. When dealing with woolen carpets, acidic solutions are used. Once this is done, the carpet is brushed by either using an automatic or manual machine. The pressure from this machine helps to rinse out any residue, pre-conditioner or lose dirt. When you use an alkaline detergent on a natural fiber such wool, it would be best to make use of an acidic solution. This will help to restore the pH of the neutral fiber thereby leaving it soft to the touch.
When it comes to the steam cleaning technique, it is more appropriate to make use of a detergent-based solution. In order to effectively dissolve any organic material, a carbonated solution must be used. Once the cleaning is done, a homeowner can also make use of anti-soiling and anti-staining products.
Out of all the different processes involved, extraction is one of the most important steps. When compared to other techniques, the hot-water technique requires more water. For this reason, proper extraction as well as adequate air flow is highly critical in order to prevent any issues when it comes to drying. As earlier stated, in order to hasten the drying process the use of extra fans and air conditioning usually comes in quite handy.
Wet treatment should not be used on loose rugs with a foundation consisting of natural yarns. The reason for this is because it may lead to shrinking. New carpets made out of synthetic yarns and backings, never shrink and are also known to smooth out easily. Whenever such carpets form wrinkles, it is a clear sign of an underlying issue. Such a problem can easily be solved by an expert carpet inspector.
A wet cleaning system usually requires more drying time. This has led to increased customer concerns and fears related to slow drying. This can lead to discoloration, odors, fungi, bacteria, molds and mildew. In order to curb this problem, carpet cleaning professionals are making use of innovative techniques.
The use of pre-treatments and systems with low moisture are also used. This usually require a prolonged dwell time which can range anywhere between fifteen to twenty minutes. This is as a direct result of lower carpet agitation. The most suitable form of pre-treatments should allow an effortless rinse and leave a dry powdery residue which can easily be flushed out without causing any re-soiling.